Project Giving Back sponsor Horatio's Garden for RHS Chelsea Flower Show 2023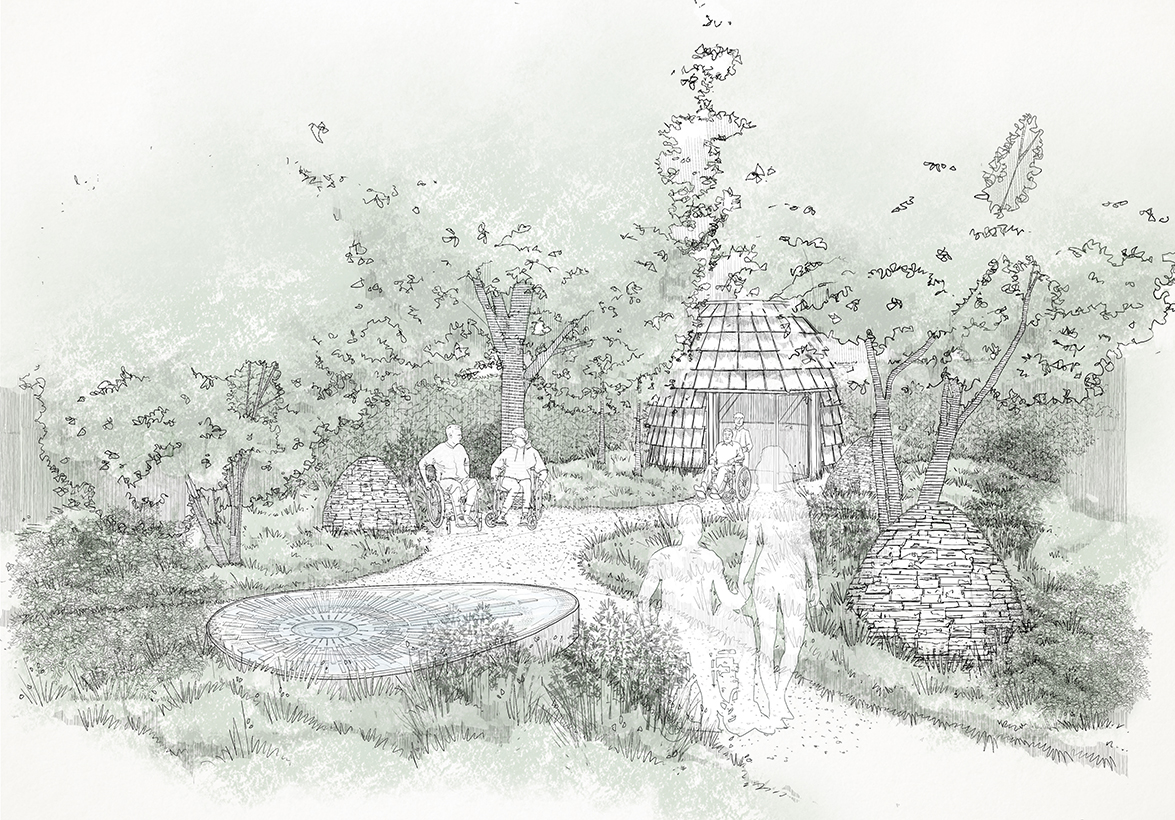 Horatio's Garden, the UK-based charity dedicated to creating and nurturing beautiful, accessible and sustainable gardens in NHS spinal centres, and which has been pledged funding for all eleven gardens by the National Garden Scheme, has released a visual of their RHS Chelsea Flower Show 2023 garden (shown above).
Designed by Charlotte Harris and Hugo Bugg of Harris Bugg Studio, the show garden will embody the special qualities found in all Horatio's Gardens and, in a first for Main Avenue, the garden is designed with people with mobility needs at its heart. The garden space will incorporate influences from the Sheffield region, connecting it to the garden's future permanent home at the Princess Royal Spinal Cord Injuries Centre in Sheffield. This new garden in Sheffield, also designed by Harris Bugg Studio, will be the eighth Horatio's Garden and will serve a significant geographical area from the West Midlands to East Anglia, benefitting thousands of patients, relatives and NHS staff for years to come.
The garden has been made possible through the generous sponsorship of Project Giving Back.
Olivia Chapple, Founder and Chair of Trustees, Horatio's Garden said: "We are thrilled to be collaborating with Harris Bugg Studio to bring Horatio's Garden to the world famous RHS Chelsea Flower Show 2023. We are so grateful to Project Giving Back for this special opportunity as a charity to create a Main Avenue Garden, where Charlotte Harris and Hugo Bugg's thoughtful design will enable to us to share the important message that great design really can improve the lives of everyone in society. This garden will have such an important legacy in then forming the nucleus of our eighth Horatio's Garden in Sheffield in 2024, where we know it will improve the lives of thousands of people."
The vision for the garden is of a beautiful, immersive, restorative haven – the antithesis of a busy, clinical hospital environment. It is designed to give visitors to Chelsea Flower Show a sense of the hope and transformative effect having access to a Horatio's Garden can have when coming to terms with a devastating and traumatic spinal injury.
You can view a short film featuring key interviews about the journey to Chelsea here:
Horatio's Garden at RHS Chelsea Flower Show 2023 from Horatio's Garden on Vimeo.
More about Horatio's Garden and the National Garden Scheme
Horatio's Garden is one of the National Garden Scheme's gardens and health charities – receiving funding for work which promotes the physical and mental health benefits of gardens and gardening. The National Garden Scheme has been supporting Horatio's Garden since 2015 and have donated over £400,000 to-date to help the charity create and care for beautiful accessible gardens in NHS regional spinal injury centres. In spring 2019, the National Garden Scheme committed funding for the completion of all eleven gardens across the country and in 2022 donated a further £90,000.
Five Horatio's Gardens also have open days in 2023 for the National Garden Scheme:
Oswestry on 17th June
Stoke Mandeville on 24th June
Cardiff on 1st July
Salisbury on 2nd July
Stanmore on 23rd July
CLICK HERE for all the opening information including times and how to get there.
We hope you enjoy Horatio's Garden's show garden at RHS Chelsea this year and look forward to welcoming you all to our stand in May.