Rhodds Farm, Herefordshire; a natural gem designed to delight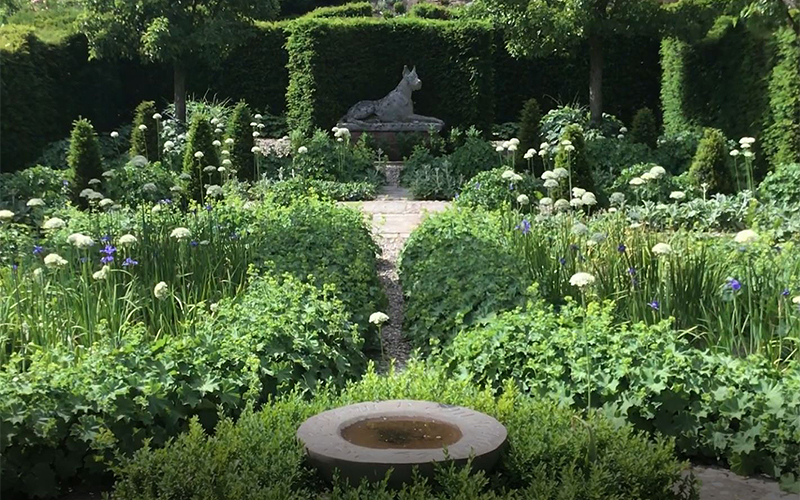 Created by the owner and garden designer Cary Goode over the past 14 years, this stunning garden with far reaching views towards the Black Mountains contains a treasury of gorgeous garden spaces and planting. Cary shares a glimpse of the gardens at Rhodds Farm with us here and invites you to join her this summer;
A closer look
The garden at Rhodds Farm was started from scratch in 2005 by Cary Goode. It is a challenging site with overhanging woods on the north side and open pasture to the south. A fabulously peaceful spot with a natural garden where plants are allowed to self-seed. There are lots of mixed borders around a pond for wildlife, a formal garden leading to a brick dovecote, a courtyard garden around a water sculpture, a large gravel garden, wild-flower meadows, woodland planting and a large pond with a boardwalk at the end of the woodland.
There are many unusual plants and lots of colour and interest throughout the summer with an extensive range of interesting plants. The formal garden with dovecote houses 50 white doves while glorious mixed borders, double herbaceous borders of hot colours, large gravel garden, several ponds, arboretum, wild flower meadow and 13 acres of woodland. A natural garden on a challenging site that fits the setting with magnificent views. There are also interesting and unusual trees, shrubs and perennials in this pesticide free haven.
For more information on this garden click here
If you enjoyed this content please consider making a donation to help us continue to support our nursing and health beneficiaries.
MAKE A DONATION TO SUPPORT OUR NURSES