RHS Carew Pole Award presented to National Garden Scheme CEO, George Plumptre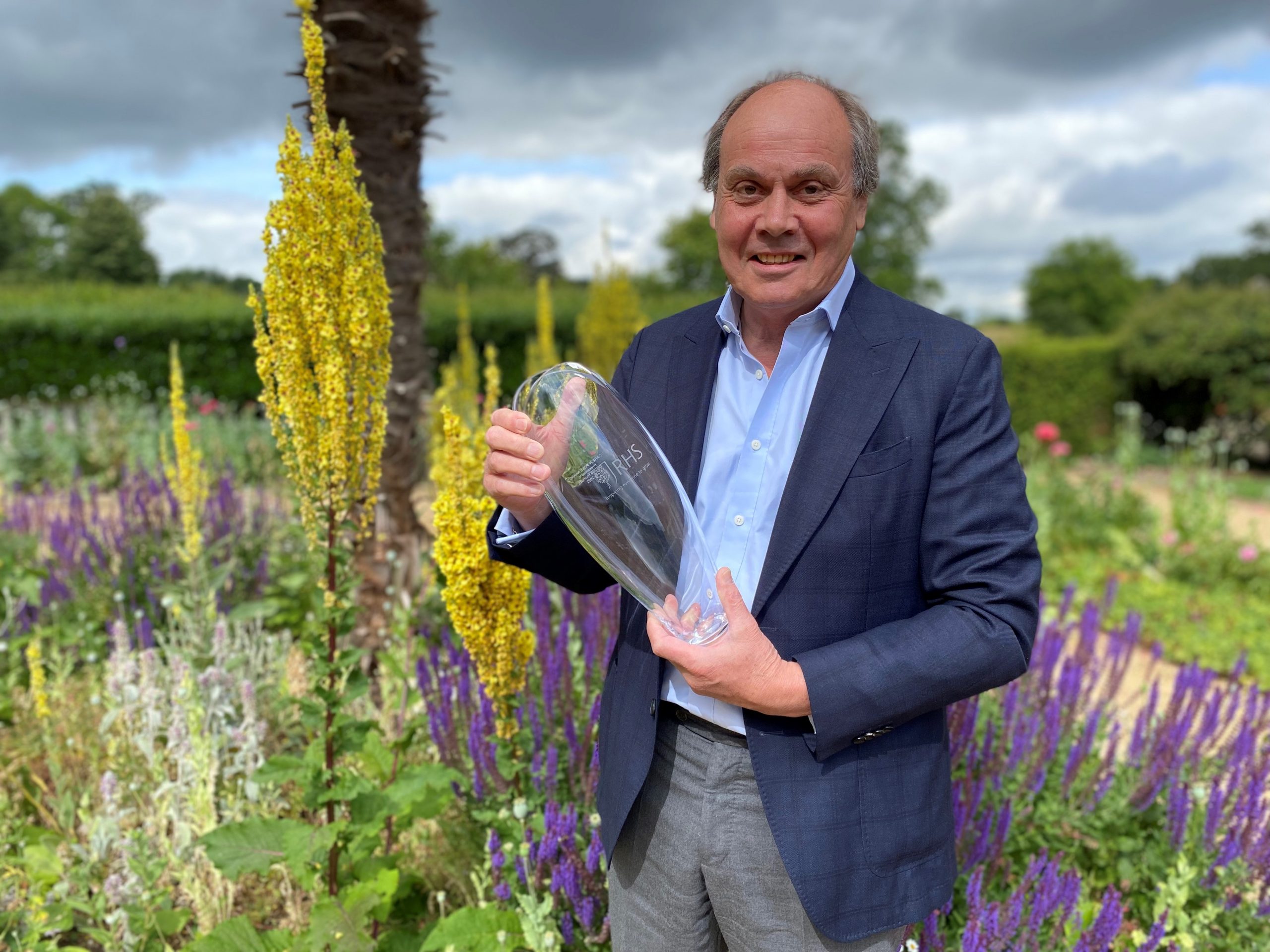 On Tuesday 14 June, Keith Weed, President of the RHS, presented the Carew Pole Award to National Garden Scheme Chief Executive, George Plumptre in recognition of his outstanding contribution to the world of horticulture.
The Carew Pole Award ranks in seniority of RHS Awards alongside that of the Victoria Medal of Honour (its most senior 'horticulturist' award) and is named after President Emeritus, Sir Richard Carew Pole and is presented by Council, from time to time, to those who have made an exceptional contribution to horticulture as non-horticulturists.
Accepting the award George Plumptre said: "RHS awards are the pinnacle of recognition in the world of gardens and horticulture, so I am particularly proud and grateful to have been given this special award. I count myself fortunate to have been able to build my career in an area about which I have always been passionate, especially during the last decade as Chief Executive of the National Garden Scheme."
Commenting on the award, Chairman of the National Garden Scheme, Rupert Tyler said: "Everyone at the National Garden Scheme is thrilled that George's long-standing dedication to and promotion of horticulture has been rewarded by the Royal Horticultural Society.
"He has championed the beauty and joy of gardens together with the health benefits gardening brings throughout his tenure as Chief Executive and through his scholarly publications and extensive media work. We are immensely proud of all that he has achieved and especially of the honour paid to him by the RHS through this award."
The nomination read:
'In his 10 years as CEO, George has transformed the National Garden Scheme, and the track record of donations raised by gardens in the Scheme for nursing and health charities is second to none. His knowledge of both the great gardens of the UK and the thousands of high quality gardens that open for the National Garden Scheme is superlative. Arguably his greatest contribution to horticulture is the increased knowledge and love of garden visiting that he has overseen during his tenure with the National Garden Scheme. He introduced the Gardens & Health initiative and led the commissioning of two well-respected reports by the King's Fund on gardens and health and the vital combined role of nursing and care charities to the NHS.'
You can read the King's Fund reports here