Heavenly scented rose and raspberry cake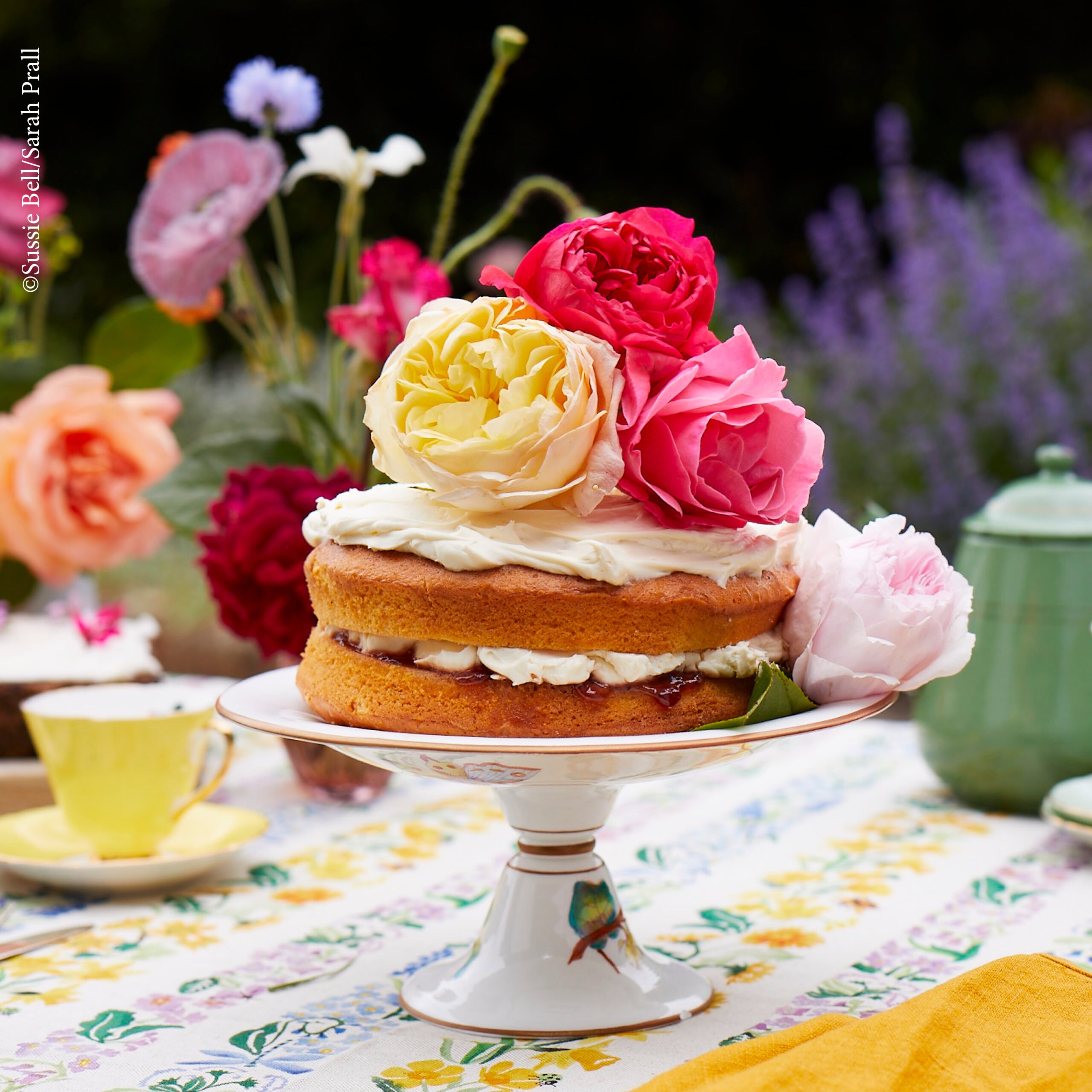 Recipe shared by Sarah Prall 
A classic Victoria Sponge with a twist, the perfect centrepiece for your Great British Garden Party!
Instructions
Preheat the oven to 180°C/Gas mark 4.

Prepare two

8" cake tins,

well greased

and then lined.

Sift the flour and salt together into a bowl and put aside.

 

In a large mixing bowl beat the butter to a cream.

 

Add the caster sugar and continue to beat until the mixture is very light and creamy 

 

Add the eggs, about a quarter at a time, adding 1 tbsp of the weighed-out flour with each addition and beating thoroughly before adding the next. Beat in the rose extract with the last of the egg.

 

Sift in the rest of the flour, half at a time, and use a large metal spoon to carefully fold it in. 

 

Divide the mixture equally between the prepared cake tins, spreading it out lightly and evenly with the back of a spoon. Bake in the centre of the oven for about 25 minutes or until the cakes are lightly golden and spring back into shape when gently pressed.

 

Leave the cakes in the tins for a couple of minutes before turning them out onto a wire rack to cool completely. 

 

Make the rose and mascarpone cream

 

Beat together cream, mascarpone, and a couple of drops of rose extract in a large bowl with an electric mixer until smooth and creamy. 

 

Add sugar gradually, mixing continuously until frosting is smooth and stiff peaks form, about 5 minutes. Use immediately or store covered in the refrigerator.

 

When the cakes are cold, spread one cake with the raspberry jam, and add a layer of fresh raspberries. Spread half the mascarpone cream over the other cake and gently place on top the raspberry layer. 

 

Spread the remaining cream mixture on to the top of the cake and refrigerate. When you are ready to serve dress the cake with fresh garden roses.

 
*For an extra special twist, If you have any, place 3 or 4 deliciously scented geranium leaves, such as Mabel Grey or Attar of Roses, in the base of the lined tin. Remove when the cake is turned out to cool. 
_________________________
Think sunshine, flowers and cake – gather friends and family to raise funds for vital nursing and health charities
Ingredients
175g self-raising flour
175g unsalted butter, cut into small pieces and softened
175g caster or vanilla sugar (plus a little extra to finish)
3 medium eggs, lightly beaten
250g mascarpone
150ml double cream
Punnet of raspberries
3-4 tbsp soft set raspberry jam
2 tbsp fine white sugar
1 tsp rose extract
Pinch of sea salt
Garden roses to decorate