Sophie Allport's Tips for a Stylish Great British Garden Party Picnic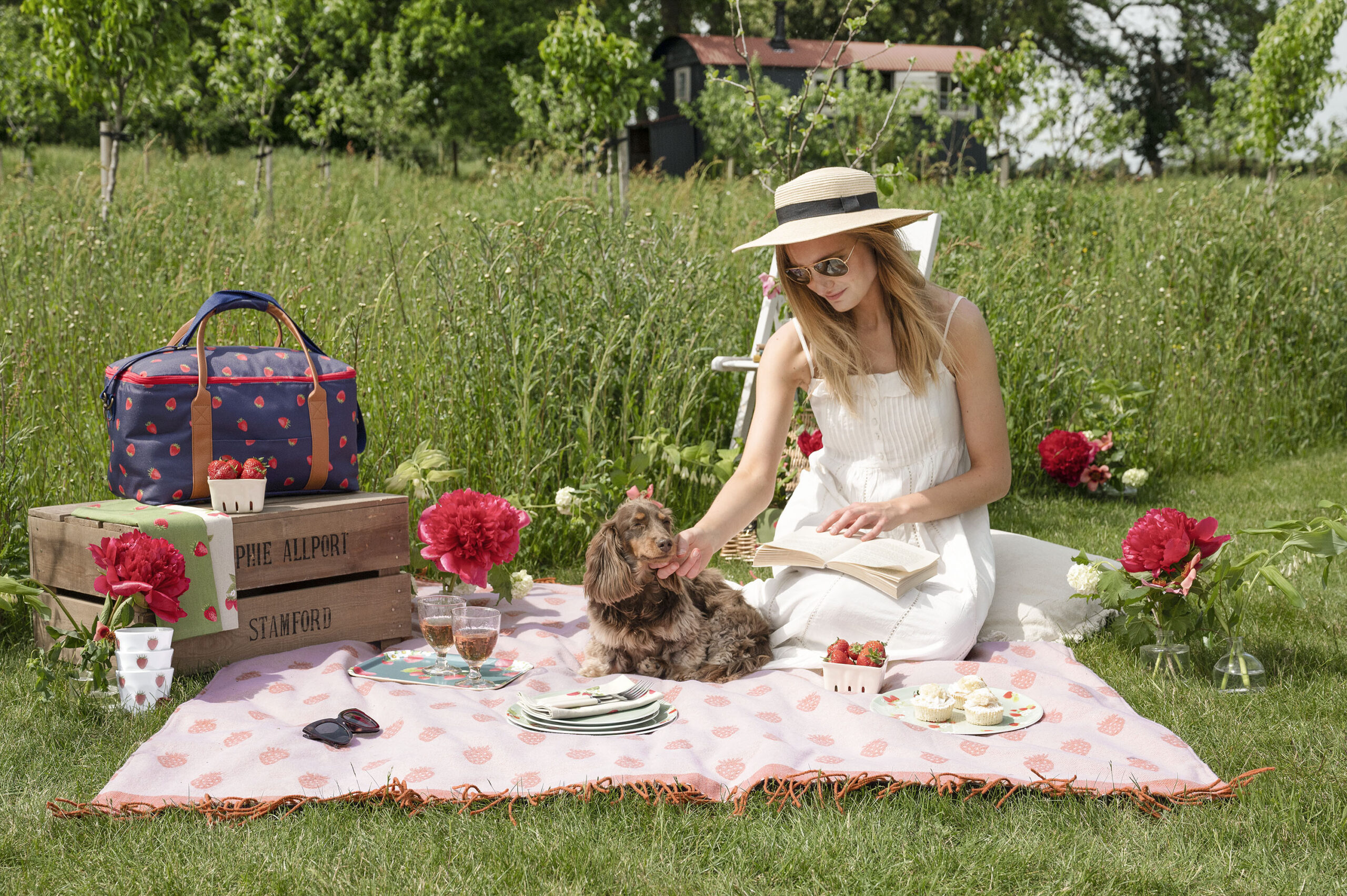 Keep it simple and tap into the nation's obsession with picnics! Host a garden picnic to raise money for some of the UK's best-loved nursing and health charities. Choose your location: in your local park, on the beach or even in your own back garden, and gather friends and family. A picnic is relaxed and informal – all you need is a few blankets and some delicious food. It's a chance to to bask in the sunshine and spend some quality time together.
Sophie Allport shares her top tips below for planning a picnic and stylish garden party. As part of our 2024 partnership, Sophie Allport is also offering all National Garden Scheme supporters a special 20% discount until 14th July (see details below).
Prepare your picnic spot
Cut the grass, water the plants, and create a shaded area in the garden so that friends and family can escape if the weather is too warm. You could even hang some garden party decorations – bunting and string lights add a pretty aesthetic along with atmospheric lighting for when the sun goes down.
Prepare the essentials
Picnics might be the one time that it's deemed ok to eat with your hands, but plates are essential for all of that picking and sharing you'll be doing. Plus, would it even be a picnic without pretty plates? Melamine plates are the perfect go-to as they are lightweight and durable, so you don't have to worry about any smashed crockery if there are any accidents. If it's a fuss-free picnic you're looking for, we suggest you prepare individual lunch boxes for the kids, so there's no room for arguments about who gets what.
Picnic must-haves:
Picnic food and drink
Picnic bag – to keep food cool outside
Picnic blankets
Plates, cutlery and napkins
Cushions and throws for extra comfort
Rubbish bag
Games
Keep it cool
A frozen bottle of water serves as a great cooler for your picnic bag and a refreshing beverage once the ice has melted. Frozen grapes are also a tasty ice cube alternative to give drinks a fruity flavour and will help to keep you refreshed for your day under the sun. If you have an ice bucket, fill it up for serving ice cold drinks.
Say goodbye to bugs
Cupcake cases are handy for stopping tiny creatures from crawling into your drink. Simply pop them over your cup and slide a straw through them to enjoy a bug and sand-free beverage. You can also stick cupcake cases under ice lollies to avoid messy fingers (a great picnic hack for both kids and adults).
Get creative with food
We like to prepare everything food-wise the night before and label everything so you can keep organised – this is particularly important for anyone who has any intolerances or allergies. Sandwiches cut into triangles are always a winner – some of our favourites include ham and cheese, cheese and pickle, mozzarella and tomato and classic egg mayonnaise. Pair with quiches, crisps, pies, scotch eggs, and fruit.
Tuck in and clean up
Make sure you have napkins or wet wipes on standby for those messy pups. Keep a rubbish bag close by so everyone can discard any litter and mess too – this will make it easier to tidy up once everyone has left.
HAVE FUN!
Perfect picnics and garden parties are about spending time with our friends and family, if your garden is big enough maybe set out some games. We suggest a football, rounders, cricket kit, or badminton set. Mostly have fun and spend some quality time together!
A special discount from Sophie Allport
Al fresco dining has never been this easy, and we hope these hacks have got you ready to lay down your blanket and enjoy a great British garden picnic this summer to raise money for vital nursing and health charities. Discover Sophie's collection of picnic and dining essentials for a stylish and practical garden party, and enjoy 20% off almost everything until midnight 14th July 2023 using the code GARDEN20*.
*Terms & Conditions: Code not valid on sale items, made to measure curtains and blinds, gift cards or service charges. Code cannot be used in conjunction with any other offer.