Thank you to all of our volunteers – we can't do it without you!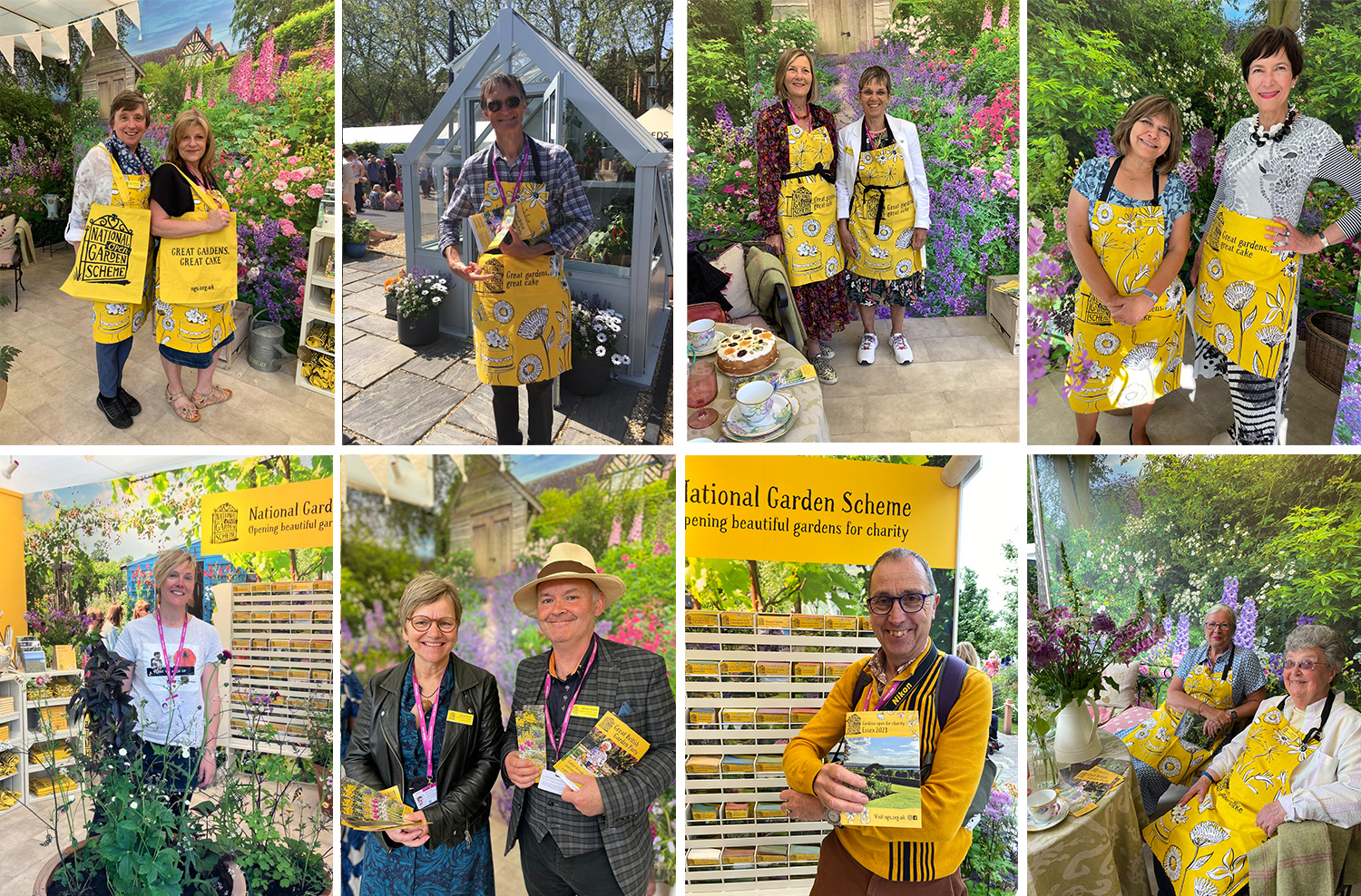 National Garden Scheme volunteers are the lifeblood of our charity. We could not do what we do and give as much as we do to charity each year (£3.11 million in 2022!) without the generosity of our garden owners and the 550+ volunteers who support them. So in Volunteers' Week (June 1-7) we'd like to say a HUGE thank you to each and every one.
Get involved!
There are so many ways to support the National Garden Scheme, from helping to select and promote our gardens to acting as a county treasurer. Roles are varied and rewarding: "Inspiring" "Sociable" "A joy" "A privilege" are just some of the ways our volunteers describe their experience as part of our team.  If you are over 16 and would like to join this fantastic family of fundraisers either as a garden opener or a volunteer you can find out more by clicking here
One of our volunteers is Naman Chaudhary (pictured below) who came to England for university in 2018 and found a whole new community by volunteering with the National Garden Scheme.
"Being a volunteer couldn't be more fun," says Naman who supports a garden opening in London. "It is gratifying to think how your one day's contribution can make at least some difference in the world. You get to meet and talk to people from different walks of life who share a common love for gardening, hear what they think about the plants and their own gardens. I would not have otherwise been able to form the lifelong friendships that I have by volunteering for the National Garden Scheme. It enables me to learn about and appreciate the flora that I was both geographically and culturally unfamiliar with."
You can read more about Naman's volunteering story here
While every volunteer is invaluable to the success of the National Garden Scheme there are some that go the extra mile like East & Mid Sussex Publicity volunteer Geoff Stonebanks.
"I've been volunteering for the National Garden Scheme, and Macmillan Cancer Support since 2012 and feel part of a vibrant and friendly team of volunteers," says Geoff. "I was completely taken aback this year when these two elements of my community volunteering saw me nominated as one of the 500 Coronation Champions by the King and Queen. This is clearly not why you volunteer but what a marvellous thank you to be acknowledged in this way, and with a visit to a Royal Garden Party thrown in as well!  
"I would strongly encourage anyone, any age, any ability, to consider volunteering in a variety of guises, from baking cakes, arranging car parking at larger gardens, to taking money at the gate or opening your own garden. You won't look back! More importantly you will have that warm feeling inside that we all have, knowing you are part of a wonderful family raising considerable amounts of money for nursing and health charities."
Geoff in his garden dressed ready for the Royal Garden Party and Brenda with some of her fabulous snowdrops

Brenda Foster has been opening her garden at Gable House near Beccles in Suffolk  for the National Garden Scheme for forty-five years, mostly with her late husband John, who passed away in 2021. Together they collected snowdrops for more than 30 years and their one-acre garden has a superb collection. John used to spend hours in the greenhouse 'twin scaling' his snowdrops, and even named one of his creations after his wife. 
Visitors to the garden are treated to a large collection of snowdrops, cyclamen, hellebores and other winter flowering plants and greenhouses containing rare bulbs and tender plants early in the year along with delicious homemade soup, tea and cake and pots of freshly made Seville marmalade are also on sale. Brenda also opens in the summer offering a beautiful display of perennials accompanied by her homemade salads. 
When asked why she has opened her garden for the National Garden Scheme for all these years, Brenda said, "I love meeting all the visitors, some who come back year after year, and talking with them about the plants and gardening. It also gives me the goal I need to tidy the garden!"
Lead Image: Every year volunteers help out on our stand and on the Griffin Glasshouses stand at the RHS Chelsea Flower Show