Tom Stuart-Smith to design National Garden Scheme's 2024 RHS Chelsea Flower Show Garden fully funded by Project Giving Back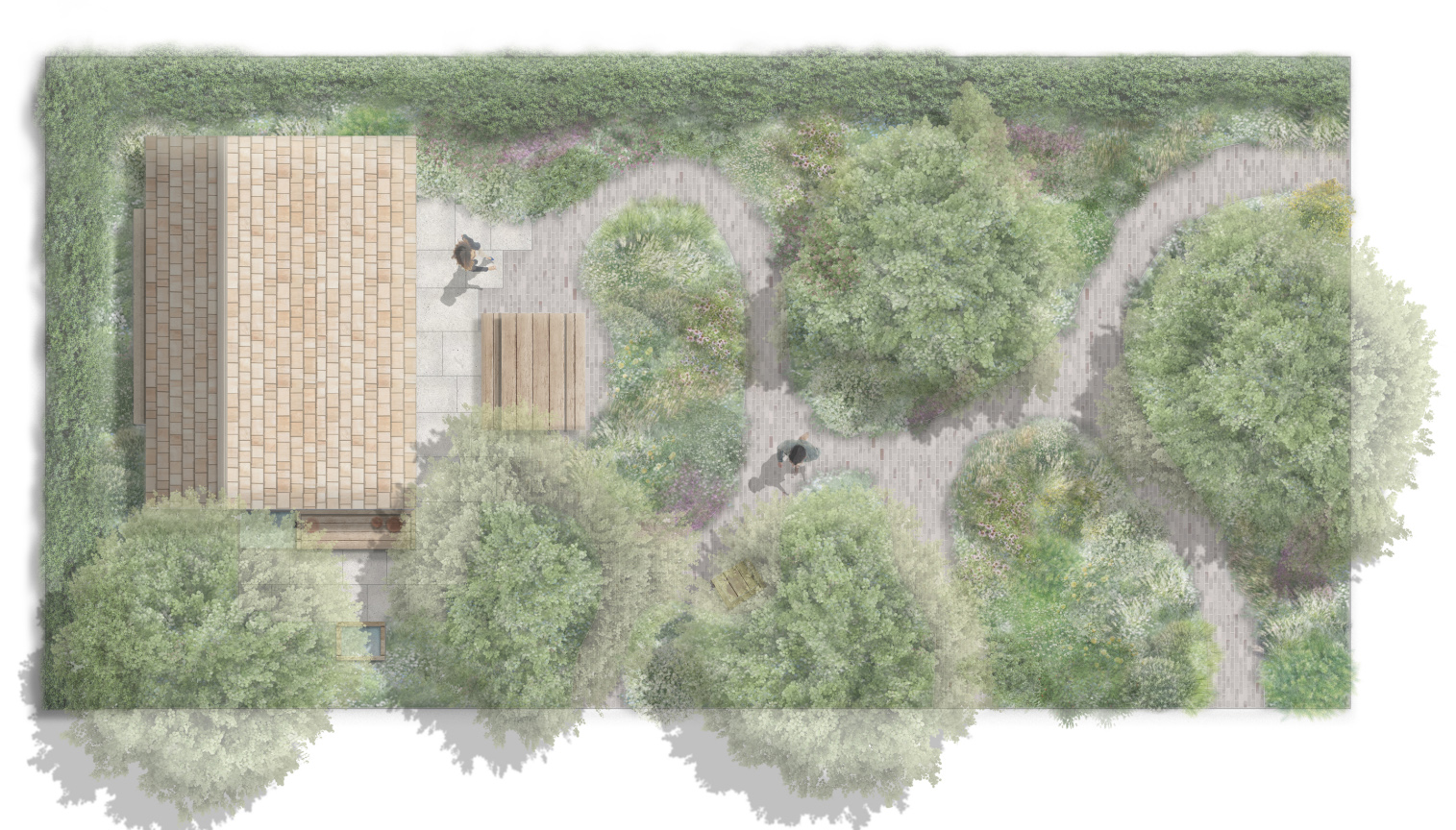 PRESS RELEASE: 30th October 2023
The National Garden Scheme is thrilled to announce that it will have a show garden at the 2024 RHS Chelsea Flower Show next May. Designed by eight times RHS gold medal winner, Tom Stuart-Smith, and sponsored by Project Giving Back, the garden will exemplify the joy and associated health and wellbeing benefits of garden visiting that have been at the heart of the National Garden Scheme since 1927. Following the show, it will be relocated to Addenbrooke's Hospital, Cambridge, to become the garden of a new Maggie's Centre for people undergoing cancer treatment.   
With a woodland edge theme, the garden's drift of gentle underplanting, made up of principally drought tolerant woodland plants laid out through an open hazel coppice, is designed to give a sense of calm and a connection to nature. A selection of plants have been donated by National Garden Scheme garden owners and incorporated into the design, exemplifying the spirit of generosity that is woven through the relationship the charity has with its supporters. A cleft oak structure, made of UK grown oak is central to the garden design and to the idea of bringing visitors and volunteers together, and has been designed by Ben Stuart-Smith and created by Fenton Fielder.
Tom Stuart-Smith, who last designed a show garden for the RHS Chelsea Flower Show in 2010, says: "The National Garden Scheme is a wonderfully unique charity, and I am proud to have opened my own garden in aid of it for nearly 30 years. It's a very special honour for me to be helping bring the National Garden Scheme to an even wider audience through this new garden, that has been made possible with Project Giving Back support." 
As with much of Tom's work the garden will showcase a juxtaposition and contrast; simplicity and complexity; the modern and the romantic, forging a connection between people and place. Tom is particularly interested in planting schemes inspired by plant communities as they occur in natural and semi-natural landscapes and is known for his plant combinations that combine naturalism and modernity. The National Garden Scheme Garden for the RHS Chelsea Flower Show 2024 will be a garden of naturalistic planting incorporating wider biodiversity and which consciously provides a sense of tranquility and calm.  
George Plumptre, Chief Executive of the National Garden Scheme says: "We very much hope that our presence at the RHS Chelsea Flower Show and our show garden will inspire more people to buy a copy of our Garden Visitor's Handbook and to visit our gardens throughout 2024, contributing further to our incredible fundraising record." 
The National Garden Scheme has raised over £67 million for nursing and health charities since its inception in 1927. In November 2022 the charity donated a record £3.11 million from garden opening with 2023 looking like it will build on this growing success. Money raised supports some the UK's best-loved nursing and health charities including Macmillan Cancer Support, Marie Curie, Maggie's, Hospice UK, Parkinson's UK, Carers Trust and Horatio's Garden.  
George Plumptre adds: "Exhibiting a show garden at the RHS Chelsea Flower Show is a unique privilege for the National Garden Scheme. It gives our charity the opportunity to celebrate our passion for gardens and our charitable activities with a worldwide audience of garden lovers. It is particularly special that our garden is being designed by Tom Stuart-Smith, not only a pre-eminent garden designer, but also a long-term supporter of the National Garden Scheme. And, that it will be relocated to one of our major beneficiary charities to become the garden of a new Maggie's Centre at Addenbrooke's Hospital, Cambridge." 
Watch our video introduction to the garden by National Garden Scheme CEO, George Plumptre and Garden Designer Tom Stuart-Smith:
You can find out more about the garden on our special web pages CLICK HERE