Unexpected pleasures: How a sensory garden is supporting local women in York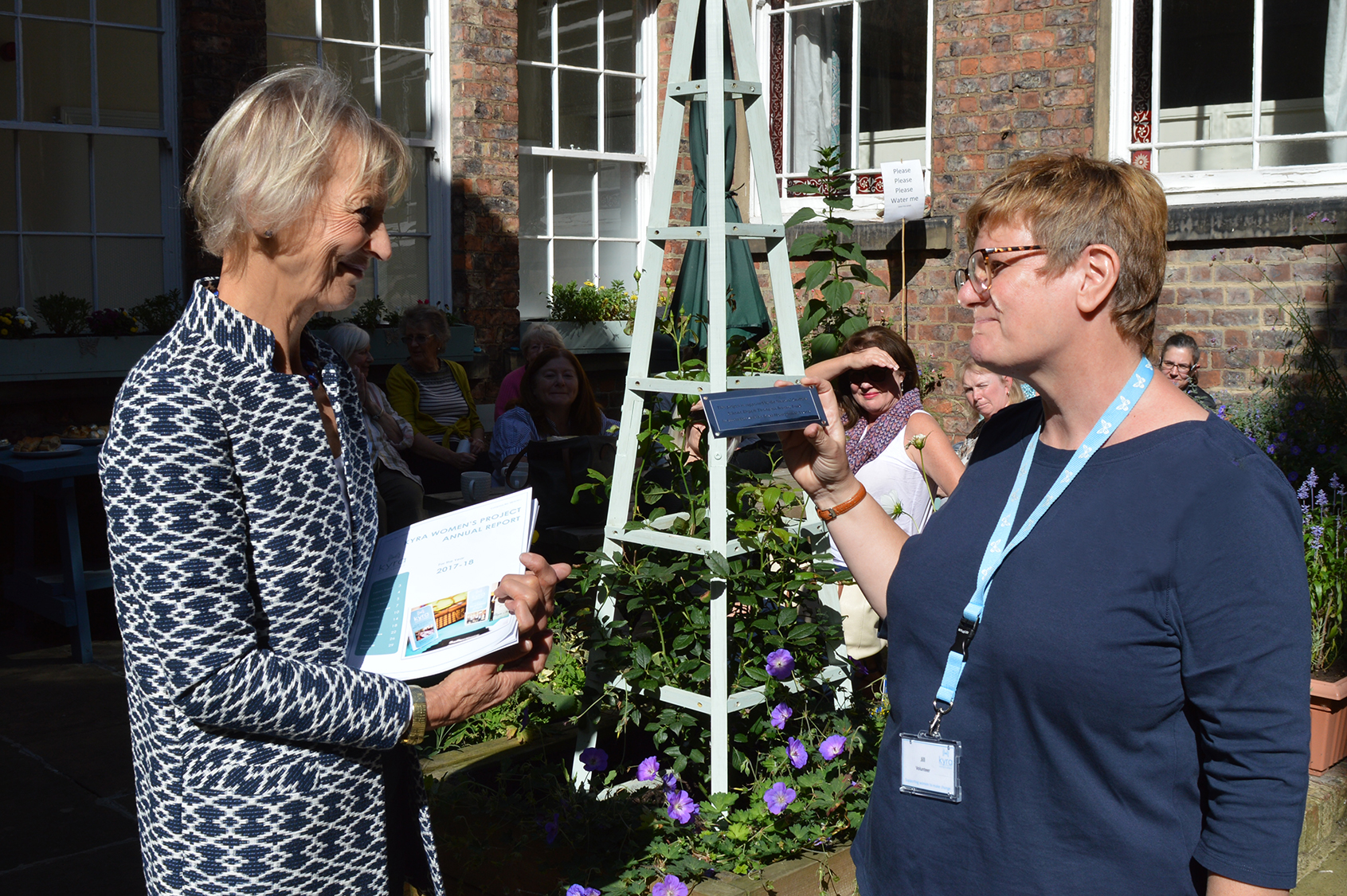 Veronica Brook, County Organiser for West and South Yorkshire (pictured above left with Gill), visited the Kyra Women's Project in York, a local charity that has benefitted from a National Garden Scheme Community Gardens Award, to discover the impact of our support first hand.
In my first year as National Garden Scheme County Organiser I have found there is an enormous amount to learn but even more to enjoy, and getting to know about organisations such as the Kyra Women's Project as a result of a grant from our Elspeth Thompson Bursary (now called the Community Gardens Award) has been an unexpected pleasure.
The National Garden Scheme donated over £3 million last year to nursing and health charities, but I had been unaware that we also help local community organisations.  Although the Community Garden Awards are relatively small it was exciting to see how just a few hundred pounds could make such a difference to one project in York and it was a privilege to be involved even in such a tiny way. The Kyra Women's Project is small local charity that supports women to help overcome challenges and make change in their lives, and supporting them felt much more personal and easier to relate to for me. Being able to see and hear about the impact of our grant first hand was fascinating and heart-warming.
Garden volunteer, Gill Stephenson organised my visit beautifully and went to great trouble to make sure I parked in the right place (free!) and could find my way (not easy!) and also that I would arrive at a time when I could meet CEO Yvonne Copley too.  It was lovely to see the garden as soon as I turned the corner, so I got the same impression of Kyra's premises as would any new visitor in need of Kyra's support.  We explored the courtyard in the sunshine and Gill explained how the Award application had been made and how many women had helped with the construction and upkeep of the garden. It was all up and running and gave a lovely vibrancy to such a small space surrounded by buildings in that historic part of York.  Benches, a table, planters and pots full of both sensory and colourful seasonal and perennial plants gave the courtyard a very calm but cheerful atmosphere.  There was even a tiny fountain.  I could imagine what a welcome place it would be to any woman in need of Kyra's care or help: to sit in company or alone, and in which to garden or just to look and enjoy.  The volunteers at Kyra are very aware of what its members need in all sorts of ways and there seemed no doubt that the courtyard sensory garden was a great asset to everyone.  I was really delighted to hear about the Project and to gain a new perspective on how life can be for the less fortunate.
This is not a particularly easy site for a garden as it doesn't get a great deal of sun, and all the plants are growing in pots, but the large planters have given the space lots of structure to enhance the table and benches, and the wooden obelisks have given height and space for climbing roses to thrive.  Gill was delighted at how quickly insects had found the garden and its flowers: such a compliment and encouragement to the gardeners.  Anyone and everyone can help care for and nurture the garden and its planting and I gather watering is fairly constantly on the 'to do' list!
We made our way inside and upstairs to the meeting room where Yvonne joined us and I heard more about how Kyra Women's Project works and whom the organisation helps.  The 'drop in' system must be very appealing to anyone who chooses or needs to visit Kyra and the atmosphere in the building is at once warm and peaceful.  There is a buzz and energy about the place but also a quiet calm. I love the fact that volunteers can offer their own specialisms at Kyra and that all their skills are joining to bring strength and comfort and practical help to the women participating in their classes and I had the feeling that everyone, the givers and the receivers, are benefitting.
You can find out more about how to apply for a Community Garden Award by clicking here

For more about Kyra visit their website at https://www.kyra.org.uk/
You may also like 'Garden Therapy in Action' the story of another grant awardee in Surrey that also opens for the National Garden Scheme.