We're celebrating the goodness of gardens and green spaces!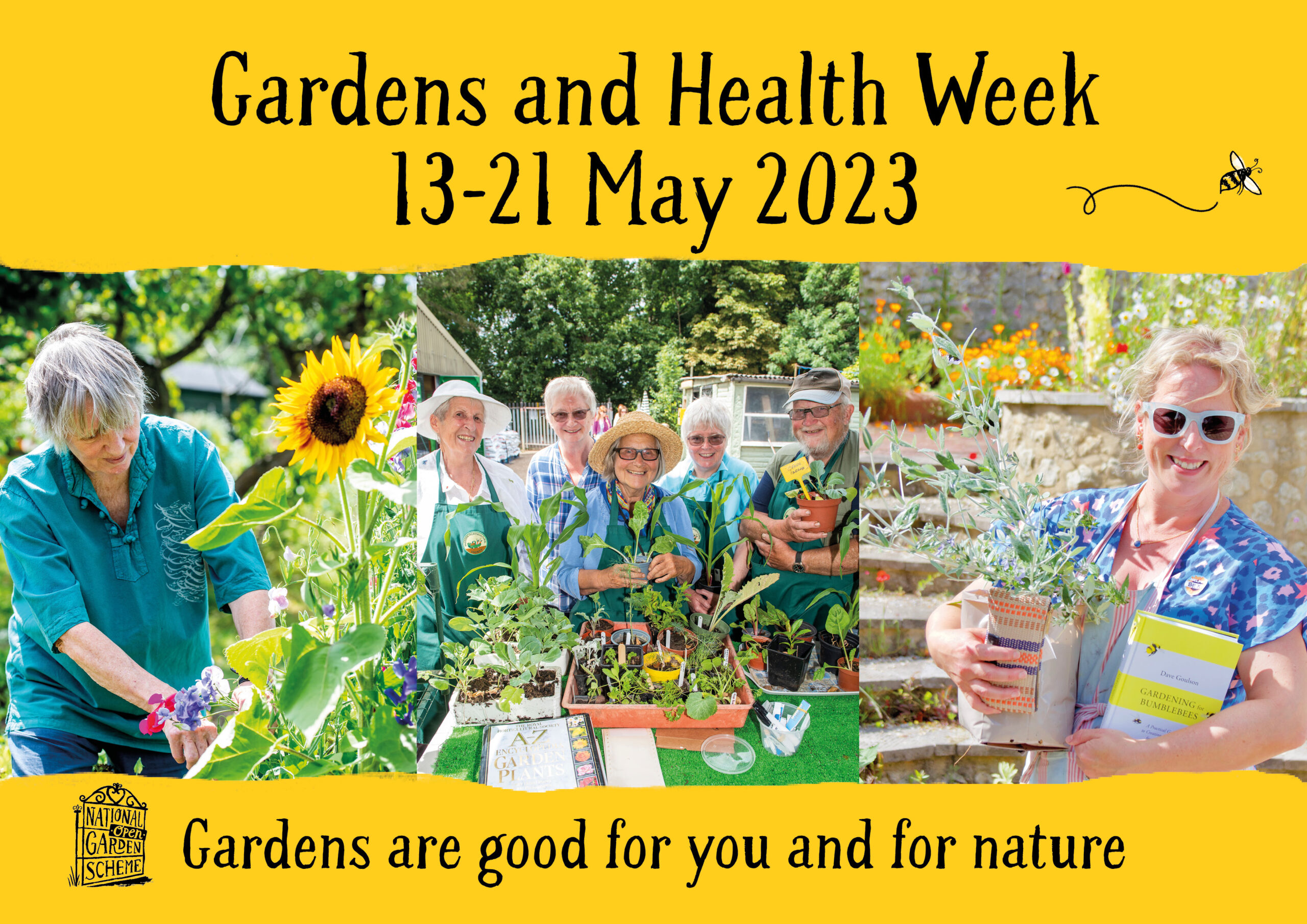 The National Garden Scheme celebrates Gardens and Health Week 13 – 21 May 
The National Garden Scheme is celebrating all that's good about gardens and encouraging everyone to embrace the positivity of green spaces as part of our annual Gardens and Health Week that runs from 13 -21 May.  
The charity, that has donated over £67 million to support nursing and health charities, including £2.7 million through its Gardens and Health Programme, has devised a varied programme in recent years that demonstrates the importance of gardens for everyone's health and wellbeing.  
Commenting, National Garden Scheme Chief Executive, George Plumptre said: "We began the programme in 2016 with the publication of the report, Gardens and Health: implications for policy and practice, commissioned from the leading health policy organisation The King's Fund. As part of our ongoing commitment, we continue to champion, and increase our funding for, garden projects in health-care settings, and community gardens; areas that we believe are vital lifelines not just for our own health and wellbeing but also for the wider health of the planet." 
This year's Gardens and Health Week is accompanied by the third edition of the interactive, digital publication The Little Yellow Book of Gardens and Health which brings the programme to life. 
"It's full of personal stories and case studies that demonstrate the real health benefits that gardens can give people across a range of circumstances. It also provides the forum for wonderful joint activity with our beneficiary charities who provide so many of the stories. From garden owners living with cancer, to someone coping with recent bereavement or an invisible disability, The Little Yellow Book of Gardens and Health brings to life a range of experiences with incisive – and often uplifting – immediacy," adds George Plumptre. 
Along with personal stories and expert opinion the chapter Growing Wild collates top tips on supporting wildlife in your garden and green – and blue – spaces and promotes the idea that gardens, whatever their size, can play a significant role in the nurturing and protection of biodiversity and provide connected habitats for wildlife. 
"The richness and diversity of storytelling in The Little Yellow Book of Gardens and Health perfectly reflects the incredible variety of gardens that open for the National Garden Scheme, while showcasing everything that makes gardens and green spaces so important for everyone's health and wellbeing," says National Garden Scheme Ambassador, gardener, television presenter and writer Rachel de Thame. She adds "Celebrating gardens is a celebration of life." 
You can read The Little Yellow Book of Gardens and Health here https://bit.ly/LittleYellowBookOfGardensAndHealth2023