Ysgoldy'r Cwrt, Ceredigion; a hillside gem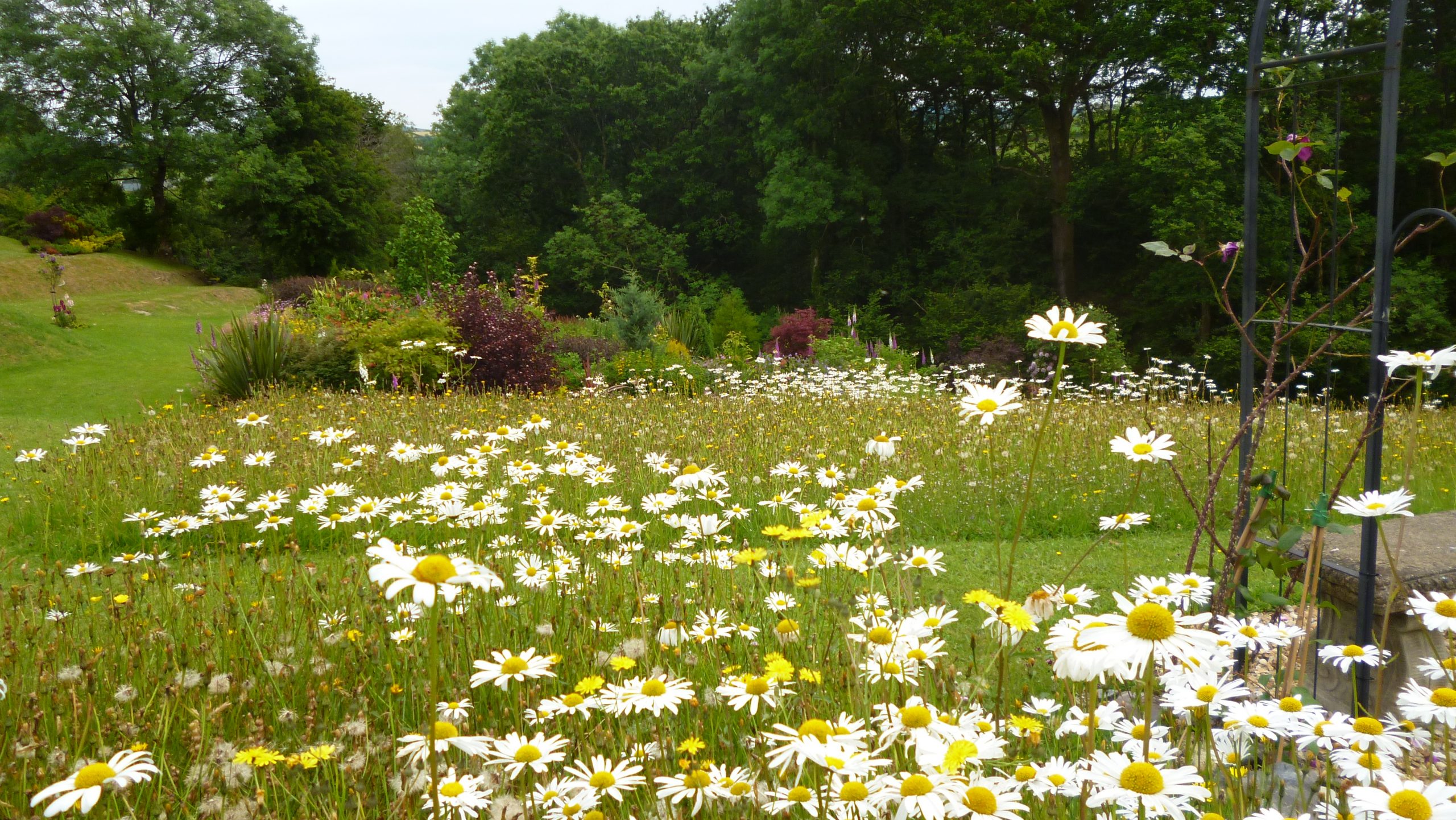 Carved from a hillside field ten years ago, this lovely garden with its ponds, rills and wild flower meadows, has become a haven for wildlife and visitors alike. Enjoy a virtual visit now and be sure to add it to your favourites:
A closer look
Ysgoldy'r Cwrt was built around a hundred years ago as a Sunday School by the owners of the neighbouring mansion (Cwrt Mawr). It has now been sensitively modernised into an attractive and comfortable home situated in the heart of beautiful countryside with sweeping views over the Aeron valley towards the mid-Ceredigion hills.
The garden extends to just over an acre and most of it has changed dramatically over the past 10 years when a field of rough pasture was annexed to the original small garden surrounding the house. Around the house are roses climbing up the walls and over an arbour; honeysuckles; hostas and fruit trees, including a medlar and a quince and low dry-stone walls provide the perfect niche for succulent plants such as sedums and saxifrages.
The newer part of the garden, although created relatively recently, is rapidly becoming established. It has been designed with curving beds filled with unusal plants, including Paulownia, Cercis siliquastrum and Cercis 'Forest Pansy', Cercidiphyllum, Metasequoia and Taxodium. There is also a growing collection of Acer species, rhododendrons and heathers, as well as many herbaceous perennials. There is a rose walk underplanted with Ophiopogon.
The five ponds are a striking feature of the garden and are planted up with colourful water lilies and surrounded with marginal plants such as candelabra primroses, mimulus and irises. A fishpond provides a home for goldfish, sarasata comets, golden orfe and shubunkin. Wide mown paths weave between areas of flowery wild meadow with a steadily increasing number of hay field species.
With plenty of seating for visitors to sit and admire the stunning views and tranquil ambience of the garden its little wonder that the garden was voted Regional Finalist, in The English Garden's The Nation's Favourite Gardens 2019.
For more about this garden click here
If you enjoyed this content please consider making a donation to help us continue to support our nursing and health beneficiaries.