105 Dulwich Village; a country garden in London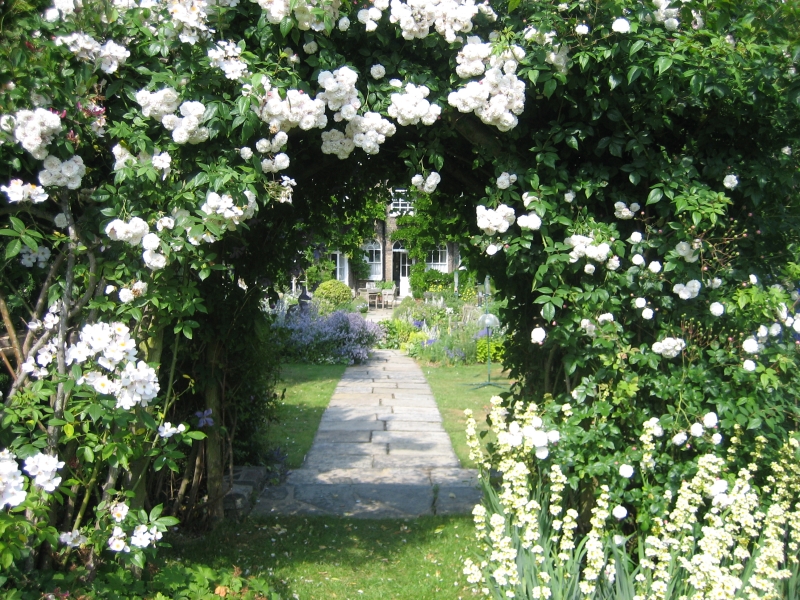 Once inside this large garden, which comes as a complete revelation from the front of the house overlooking a busy street, it is easy to forget that you are in London and the spaciousness is complimented by the rich variety of planting. 
A Closer Look
Ann Rutherford, who has skilfully developed her garden over many years, so that it really is, as she says, 'a country garden in London'. There is the balance of open, immaculately kept lawn with imaginatively orchestrated plant associations in the borders; banks of delphiniums contrasting with clever mixtures of flowering and foliage herbaceous plants. 
The garden ascends in three layers away from the house, a layout which encourages the variety from the area in front of the house with its wonderful variety of planted pots. To one side a circular pond surrounded by York stone paving and a quartet of blue and white themed flowerbeds and, beyond against the garden's boundary, the early 20th-century greenhouse with its distinctive curved front. An extra dimension is provided by the path and adjacent herbaceous border which extend right along one side of the garden. In the centre of the garden a wooden rose arch leads leads to the second level where an expanse of lawn has large beds with different planting themes on each corner and among the features on the top level is the water garden with a pond and waterfall. 
Fore more information on this garden click here
If you enjoyed this content please consider making a donation to help us continue to support our nursing and health beneficiaries.
MAKE A DONATION TO SUPPORT OUR NURSES