How to create a Christmas centrepiece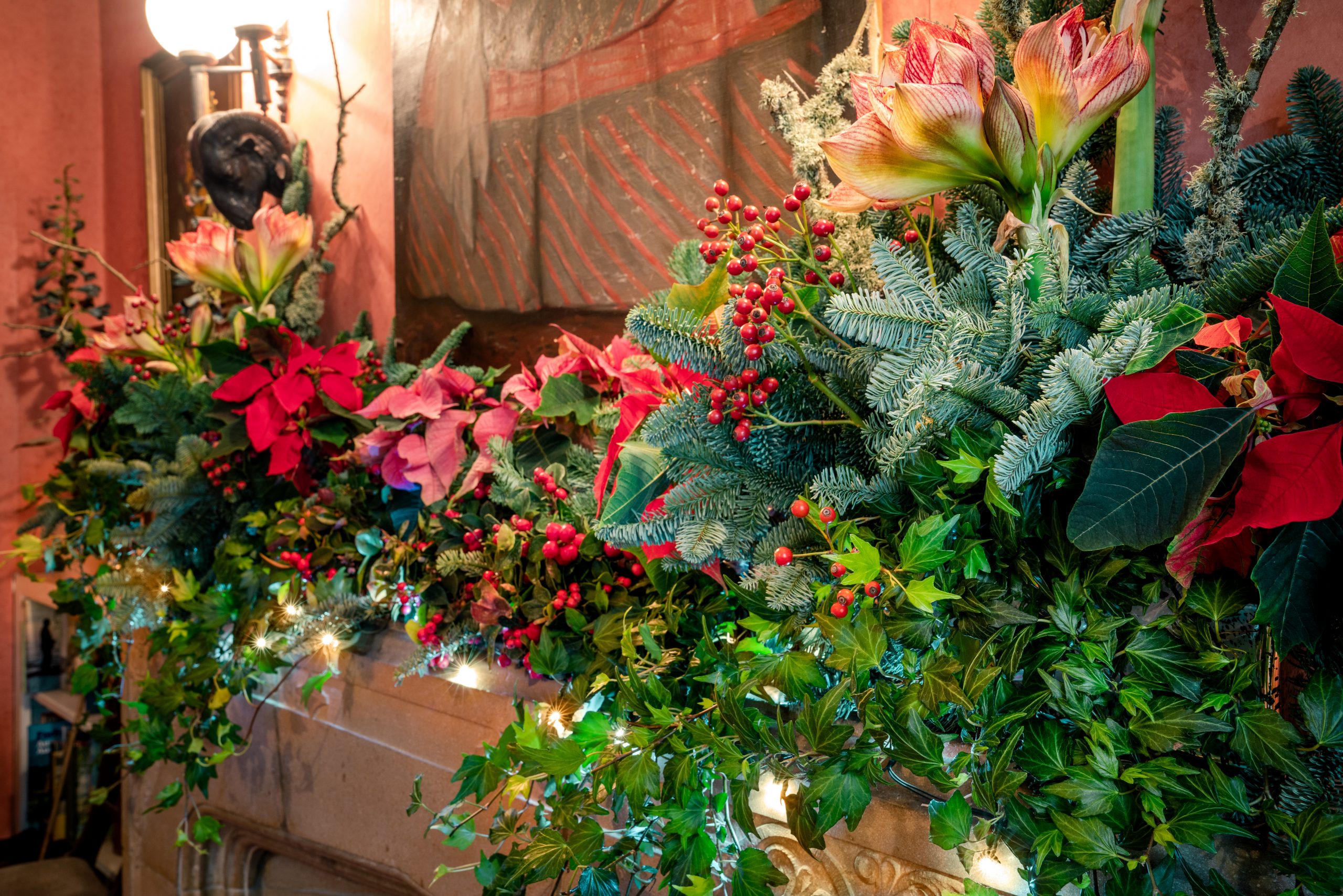 Bringing the traditional colours of Christmas from the garden, poinsettia, ivy, and pine are some of the most iconic plants of the season.
For a unique festive decoration that showcases the very best of these winter blooms, National Garden Scheme volunteer and florist, Penny Snell, gives her step-by-step guide on how to create a Christmas centrepiece – perfect for a fireplace, shelf or bookcase.
To make Penny's Christmas display, you will need:
A container – a bowl or short vase
Plant sticks
Plastic bags
Chicken wire
Blue pine – long and short cuts
Selection of potted winter plants such as gaultheria, ivy, and poinsettia
Decorative cut flowers such as amaryllis, rosehips, and twigs with lichen
Method

Step 1.
Scrunch up the chicken wire and place inside the container. Fill the container with water.
If you are creating your display on a long surface, like a mantelpiece or shelf, and have two containers create one arrangement at a time and use the potted plants to connect the two.

Step 2.
Create a framework using the long cuts of the blue pine.
Step 3.
Secure two or three Amaryllis in the container around the blue pine
Amaryllis have a very hollow stem, and when the flowers open they tend to be quite heavy! Use a plant stick to keep the flower supported in your arrangement.
Step 4.
Add the Poinsettia to your arrangement and fill in the gaps with the ivy and decorate across with rosehips and the lichen twigs. As you set out your display, make sure the plants are spread evenly to add colour throughout.
To keep the soil moist throughout the Christmas season, remove the plants from their pots, and place into a plastic bag. Secure the plant in the chicken wire by taping a plant stick tightly around the bag. 
Step 5.
Now that your arrangement is taking shape, take the shorter cuts of your blue pine and use this to hide the mechanics of your display. The blue pine doesn't need to be in water to survive the Christmas season.
Step 6.
If you are using more than one container, mirror your design so that the arrangement meets in the middle.
Step 7.
For a final festive touch, string fairy lights through the display
Hints & tips:
• Your ivy might need a bit of a haircut! Trim the leaves to make the plants more uniformed and balance your centrepiece
• Before putting your plants in plastic bags, make sure they are well-watered, so they survive for longer.
• If you use amaryllis in your centrepiece, make sure to water it throughout the Christmas period.
• Try to use environmentally friendly alternatives where you can, many supermarkets offer compostable plastic bags and chicken wire is a great alternative to florist's foam.
Photographs by Julie Skelton
Looking for more Christmas crafts?
Click here for more great Christmas content