Jane Asher's Coconut Snowball Cookies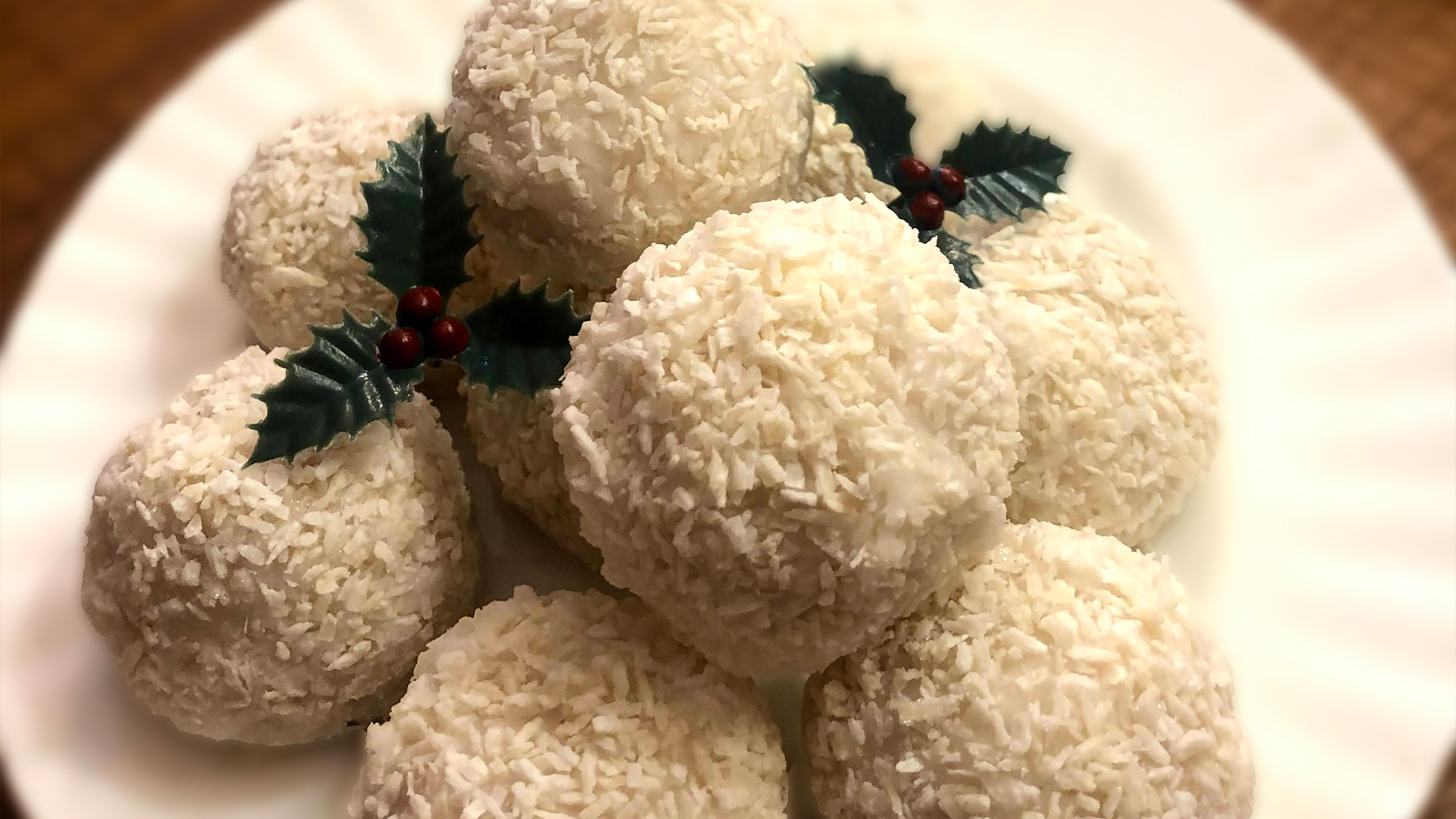 Jane Asher, President of our beneficiary Parkinson's UK, shares her recipe for these Christmas inspired cookies. 
These are delicious little cookies and fun to make – if you can face the mess then the children will enjoy joining in – and they do look very cute on the Christmas table. If you have a set of measuring cups and spoons then you can use it for all the ingredients, and I made it all in a food processor, so it's quick and easy to mix.
Instructions
Preheat the oven to 180 C/160C fan/gas mark 4. Put a generous third of the coconut into the processor and grind it for a few seconds until it's a little finer. Add the flour and 25g (1/4 cup) of the icing sugar and pulse it to mix them together. Add the butter and vanilla and pulse again until the mix looks like crumbs
Bring the mix together into a dough with your hands and roll into 10-12 little balls. Put them onto an ungreased baking tray and bake for about 15 minutes, when they will be firm on the outside but still a little chewy in the centres.
Let the cookies cool on a rack, while you make the icing. Mix the remaining icing sugar in a small bowl with the milk, being careful to add it little by little until the mixture is flowing but still thick.
Sprinkle the remaining coconut on a piece of baking paper or foil.
Using a cocktail stick stuck in the underneath, dip each cookie in the icing, letting the surplus drip off back into the bowl until there is a thin covering left on the cookie. Roll it in the coconut until it is evenly covered. You may find you need to mould it a little with your fingers, and, although the bottom will be flat,  you can shape the cookie into a rounder look by using the blade of a knife to tuck in the icing and coconut at the bottom edge.
Leave the cookies for the icing to dry for half an hour or so. They will keep well in an airtight tin for a few days at least.
_________________________
If you enjoyed this content please consider making a donation to help us continue to support our nursing and health beneficiaries.
Ingredients
75g (1½ cups) desiccated coconut
100g (1 cup) plain flour
125g (1¼) cups icing sugar
50g (heaped 1/3 cup) softened butter (I used spreadable)
1 tsp (5ml) vanilla extract
1-2 tbsps milk