Scottish Macaroon Bar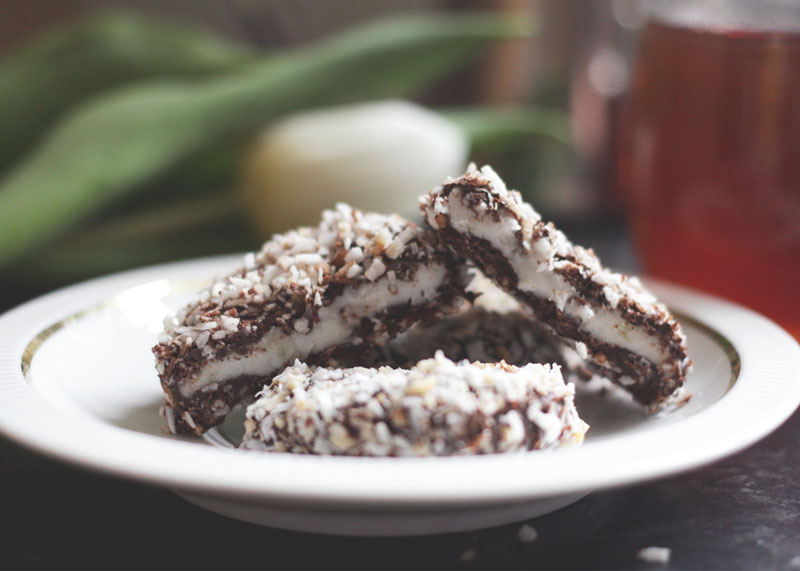 Join Marie Curie for the National Day of Reflection, taking place today, 23rd March 2022. Today is about taking time to connect, supporting the millions of people who are grieving, and remembering family, friends, neighbours, and colleagues we've lost over the last two years.
So today, our recipe comes from Marie Curie's Glasgow hospice chef, Catherine and is a firm Glasgow Hospice favourite! These traditional Scottish Macaroons are easy to make and dunked in chocolate – what's not to love!
Instructions
Peel and boil the potatoes until soft, and put them in a mixing bowl. To this, sift in the full bag of icing sugar and mix until you have a soft dough consistency. Add more icing if needed depending on the consistency of your dough.
In a pan, gently toast the desiccated coconut until they are a nice toasty golden brown colour.
Melt your chocolate (either in the microwave on 10 second intervals, or over the hob)
Roll out the potato dough over a floured surface, cut to any desired shapes and leave to cool on a wire rack.
Dip the macaroon shapes into the melted chocolate and then sprinkle with the toasted coconut.
Leave to harden for 10 minutes and enjoy!
_________________________
If you enjoyed this content please consider making a donation to help us continue to support our nursing and health beneficiaries.
MAKE A DONATION TO SUPPORT OUR NURSES
Ingredients
4x medium potatoes
2.5 kilo bag of icing sugar
1 block of cooking chocolate
Desiccated coconut