Ten years of Horatio's Garden: The power of plants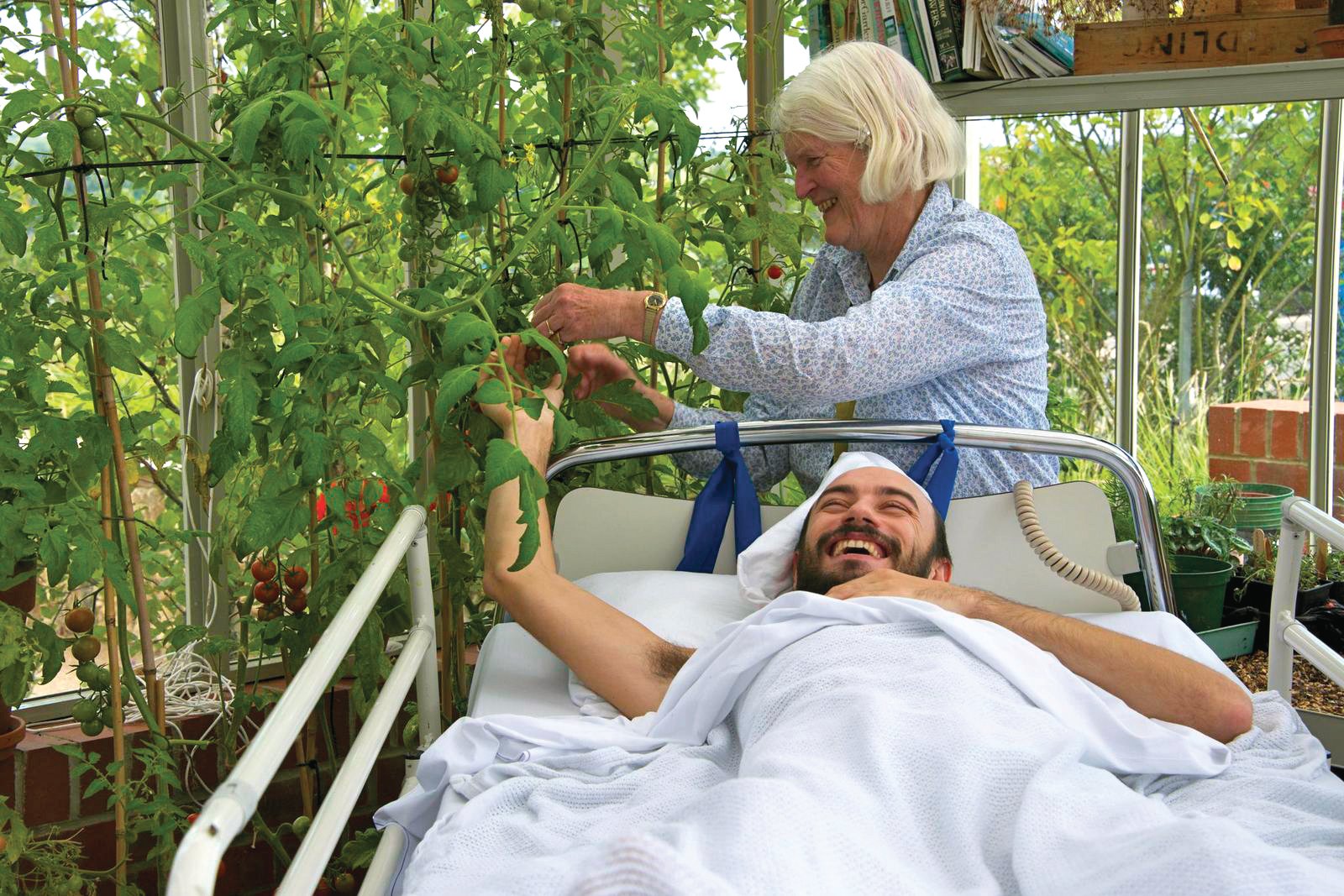 Horatio's Garden is one of the National Garden Scheme's Gardens and Health beneficiaries. Supported since 2015 we have donated over £400,000 and this year the charity is celebrating its 10th Anniversary. Here's their story…
The idea to create and nurture beautiful, fully accessible gardens for people affected by spinal cord injury was first imagined by 17-year-old Horatio Chapple. A schoolboy with plans to become
a doctor, Horatio volunteered at the Duke of Cornwall Spinal Treatment Centre in Salisbury, where he realised there was a lack of outdoor space for patients spending many months in hospital. With encouragement from his parents, Olivia and David Chapple, Horatio began working on a proposal, asking patients what they would like the garden to look like.
Tragically, Horatio's life was cut short that summer when his camp was attacked by a polar bear during an expedition to Svalbard. There followed an outpouring of love and goodwill, with donations flooding in for his garden to be created. Since then, Horatio's legacy has continued to grow and is now helping patients, their loved ones and NHS staff throughout the UK. With thriving horticultural havens opening in Salisbury in 2012, Scotland in 2016, Stoke Mandeville in 2018, Oswestry in 2019 and London in 2020, Horatio's Garden have been very busy throughout the past decade.
There's no sign of the charity stopping either. Their 10th Anniversary year will mark the opening of the sixth Horatio's Garden in Cardiff, the start of the capital appeal for the charity's seventh garden in Belfast, as well as the development of designs for an eighth in Sheffield.
"Considering we began as a small, local, community project in Salisbury, it's remarkable to look back and see how far we've come in just 10 short years," shares Horatio's mother, Founder & Chair of Trustees, Dr Olivia Chapple.
"It's overwhelming and very humbling to think of all the people and organisations, including the National Garden Scheme, who have generously donated and helped us in our mission to plant hope in all 11 NHS spinal injury centres."
"Every day, I am touched by the messages of gratitude we receive from patients, their families and hospital staff. Horatio would be so pleased to know that his legacy, his life and his ideas are still making a difference."
Each Horatio's Garden is designed by a leading garden designer, with James Alexander-Sinclair, Joe Swift, Bunny Guinness, Tom Stuart-Smith, Sarah Price, Andy Sturgeon and Charlotte Harris & Hugo Bugg all following in the wake of Cleve West, who was responsible for bringing that very first garden in Salisbury to life.
Whilst visiting a good friend in the spinal centre, Cleve had a chance encounter with the Salisbury community's plan to create Horatio's Garden South West. It captured his imagination and it wasn't long before he was working with Olivia. Together, they formulated the designs for the garden in collaboration with patients, their families and NHS staff, whilst Cleve was also wheeled around the proposed site of the garden in a hospital bed to ensure he was creating a stunning sanctuary that would be accessible for everyone.
He succeeded, with Horatio's Garden South West remaining a pioneering example of thoughtful garden design to this day.
The impact the sanctuary has had on thousands of people's lives since first opening 10 years ago is remarkable. Countless patients, family members, friends and NHS staff members have embraced the garden, not only as somewhere to quietly think and reflect, but also as a place to chat, have fun and enjoy seasonal occasions, including Easter and Christmas.
Vitally, Horatio's Garden also complements the clinical care provided by each spinal centre. They offer every patient the opportunity to take part in horticultural therapy sessions and creative workshops, all of which are funded and run by the charity.
As Head Gardener of Horatio's Garden South West, Lucy Thorpe regularly sees the power of plants in action.
"The activities we do in both one-to-one workshops and group gardening sessions centre around supporting people's physical and mental rehabilitation, but it's also about engaging everyone in a new hobby, something they can chat about and continue when they leave hospital."
"I tend to start by asking people what their garden at home is like, which is always interesting and means that I can tailor the activities to each person. For example, if a person has a little garden, we concentrate on sowing flower, herb and vegetable seeds that will thrive in a small space. People are always keen to keep houseplants and learning how to take cuttings is popular too."
"I just really enjoy sharing my love and knowledge of gardening and awakening that same passion for plants in other people is such a privilege."
It is thanks to all those who support the National Garden Scheme that we have been able to donate over £400,000 to Horatio's Garden since 2015 and commit funding for the completion of all 11 gardens across the UK. Together, we've been able to help Horatio's Garden bring the benefits of gardens and gardening to people facing extraordinarily difficult times throughout the past 10 years and will continue to do so for many wonderful years to come.
Happy 10th Anniversary Horatio's Garden!
This article was originally published in The Little Yellow Book of Gardens and Health
For more about our support of Horatio's Garden click here
For National Garden Scheme open days at Horatio's Gardens in 2022 click here