The NGS Nightingale Challenge update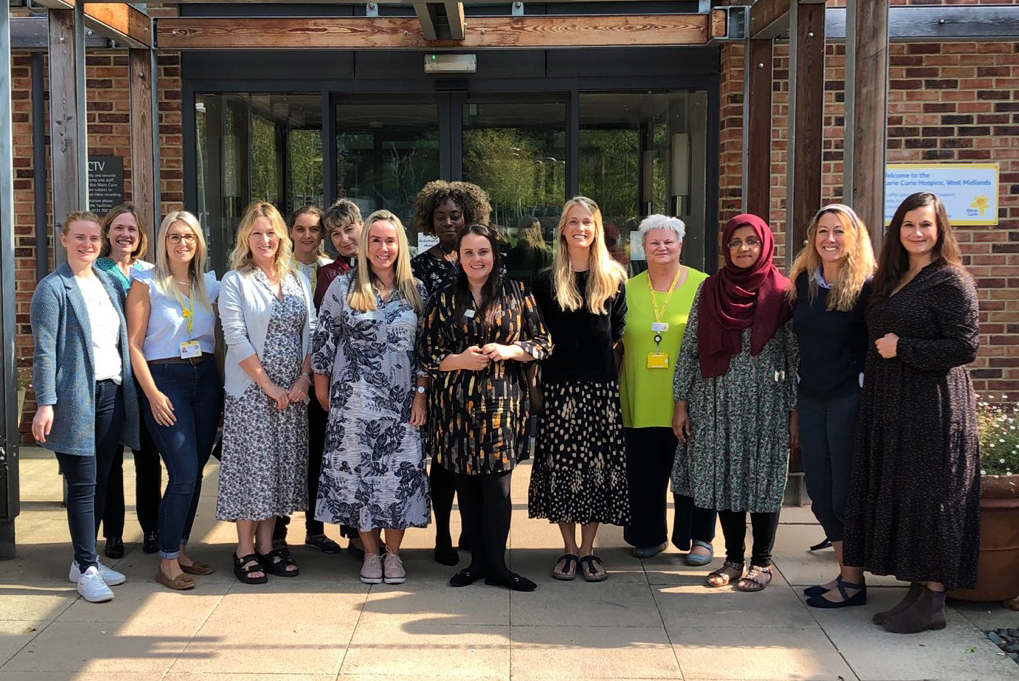 "The NGS Nightingale Challenge is a great opportunity to provide leadership and development training to all Nurses," International Council of Nurses (2023) 
Marie Curie is very grateful to everyone at the National Garden Scheme for their support over the last 27 years. To date, an incredible £10.5million has been raised, thanks to National Garden Scheme garden owners and volunteers with £47,000 of the annual donation spent directly on funding the NGS Nightingale Challenge. This vital programme is helping to develop the next generation of nursing leaders.
What is the NGS Nightingale Challenge? 
The NGS Nightingale Challenge is a bespoke leadership challenge for Marie Curie Nurses and other members of the charity's caring services staff. 
Key facts & stats 
The NGS Nightingale Challenge launched in 2021.
34 Marie Curie Nurses and Caring Services staff have completed the programme so far.
This year saw the biggest demand for places on the 23-24 programme with 20 delegates signed up, each with their own mentor.
During the Challenge, each participant undertakes a project which they present at a graduation ceremony, to celebrate their achievements together. 
Inspired by The Nursing Now Challenge (formerly the Nightingale Challenge) the programme is unique to Marie Curie and supports the next generation of healthcare leaders in palliative and end of life care. 
Challenge Information 
The NGS Nightingale Challenge is designed to give access to leadership and development training for those stepping into a leadership role or who are keen to move into such a role as part of their career pathway. 
This opportunity for personal and leadership development is a 12-month leadership programme to develop agile leaders who have a continuous drive for improvement. The core areas of this programme are: 
Operational management

 

Innovating for improvement

 

Leading people

 

Managing people

 

Building relationships

 

Communication

 

Self-awareness/management of self

 

Decision making

 
What the graduates say
"The challenge has helped me understand and have a greater awareness of different leadership styles and techniques and implement into my own style. I also have a greater understanding of change management, and how the charity works as a whole, and the work that goes into service development."
Jenny, Clinical Nurse Manager, Devon 
"The Nightingale Challenge has really made me reflect on my natural leadership style. It has helped me understand how to lead others within my team that might not have the same personality traits as myself."
Kathryn, Senior Nurse, West Cornwall 
"During the past 9 months, I have developed a greater confidence in the way I communicate – both written and verbally. The Challenge has encouraged me to work outside my comfort zone and provided an extra 'push' to develop confidence in my role."
Jessica, Nurse Manager, Scotland 
The 2023/24 programme is well underway, with 20 new delegates undertaking mentoring, shadowing and bespoke learning opportunities. The Marie Curie team look forward to sharing more information and celebrating the new cohort's successes at the NGS Nightingale Challenge 23/24 graduation ceremony on 29th February.
For more information about the National Garden Scheme and Marie Curie partnership CLICK HERE
Lead image: NGS Nightingale Challenge delegates at the Marie Curie Hospice, West Midlands