Ulting Wick, Essex: a garden jewel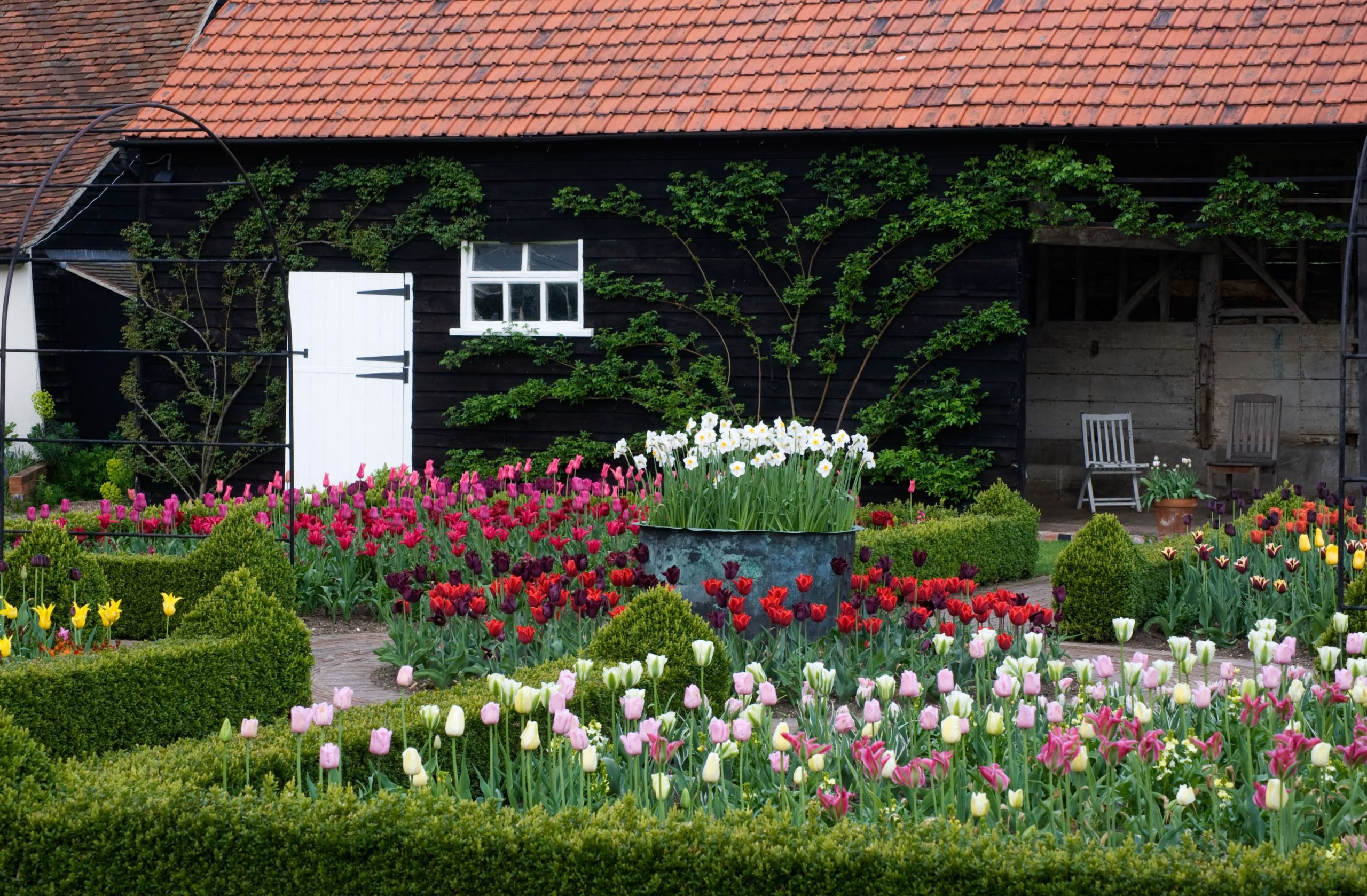 The reputation of Philippa Burrough's stunning Essex garden grows from year to year; recently it was voted one of the country's top 100 gardens to visit by Garden News magazine. Hardly surprising giving the ravishing plant combinations she arranges in the different beds and borders which have the mellow house and farm buildings as their picturesque backdrop. In particular, at this time of year the listed black barns enclose a stunning display of tulips in the old farmyard that is colour coordinated, skilfully mixed with perennials and neatly enclosed with low clipped hedging.
Philippa and her husband Bryan came to Ulting Wick 25 years ago when there was no garden to speak of and over the years her creation has steadily spread through the 8 acres so that the areas of exuberant seasonal display are complimented by the most pastoral surroundings of meadow and the stream-fed pond shaded by now mature weeping willows.
The tulips are planted in their thousands every year in November and December and their display is followed later in the summer by a bravura array of tender exotics and a colourful late-summer climax of dahlias. But as well as the seasonal theatre, this is a garden of great balance, its form provided by the arrangement of buildings and clipped beech hedges, and its contents also including carefully arranged herbaceous borders and a gentle arrangement of drought-tolerant perennials and mini-annuals scattered through the meadow.
Enjoy the tulip season in our film and we hope that the garden will be open as usual for the late summer display. To keep an eye on openings at Ulting Wick click here
If you enjoyed this content please consider making a donation to help us continue to support our nursing and health beneficiaries.
make a donation to support our nurses