Your Great British Garden Parties 2021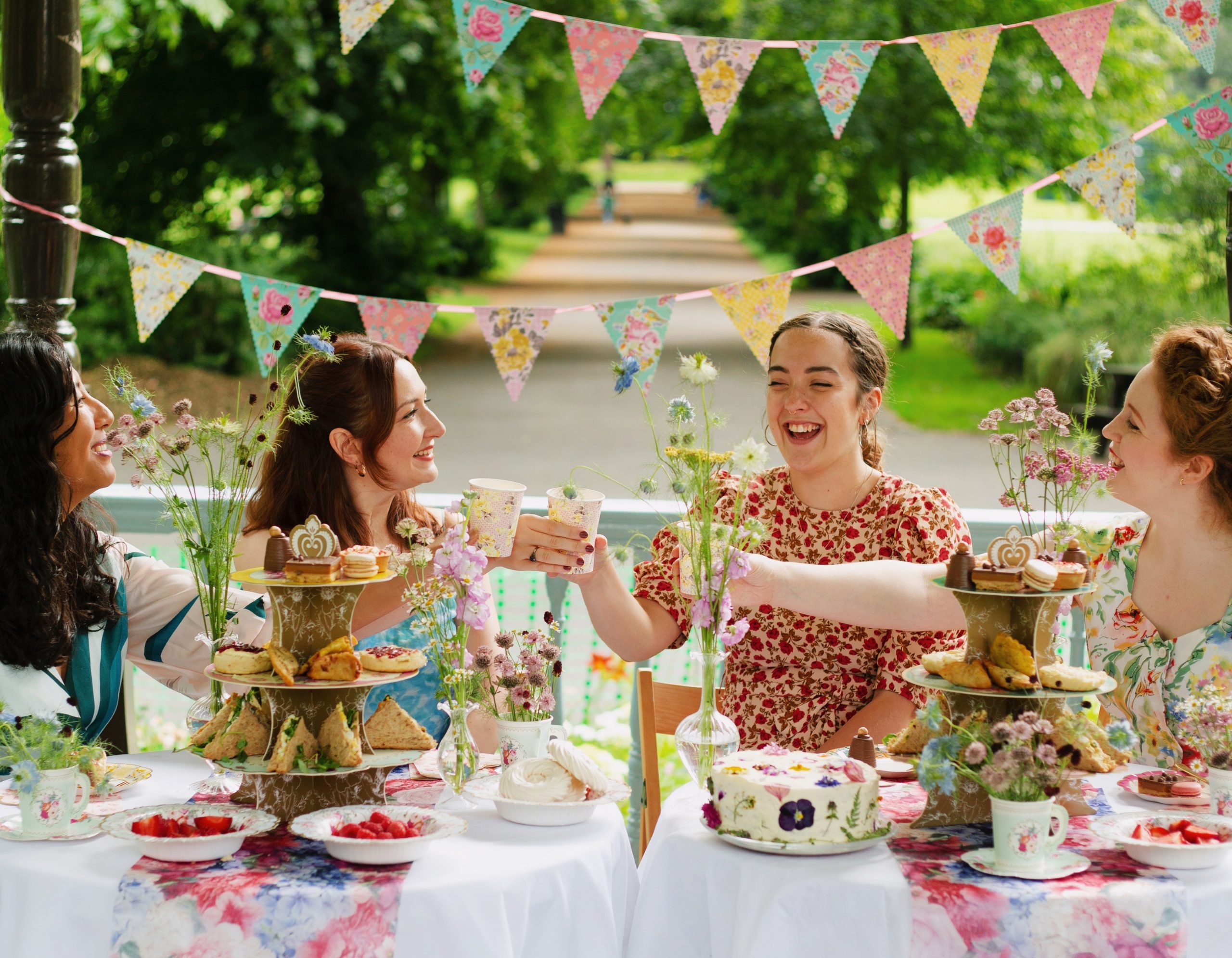 This summer people up and down the country hosted Great British Garden Parties to support some of the UK's best-loved nursing and health charities. From afternoon tea to paella parties, plant sales to street parties, cake stalls to music and dancing, there were a multitude of creative interpretations of what a Great British Garden Party can be.  Together you raised over £25,000!
Be inspired by some of the 2021 Great British Garden Parties 
Claire and Charles – one of our first garden parties 
It was a chance meeting with a friend on a dog walk that led Clarie and Charles to host a Great British Garden Party in Cornwall this summer. "It seemed such a brilliant idea and having been a nurse myself years ago, I liked the idea of raising money for nursing charities." 
 
Despite torrential rain hampering their preparations, in true British style their visitors did not let it dampen their enjoyment. At the end of a wonderful afternoon they had raised over £1,600. Read more
Mary and Alan – looking forward to next year! 
 We had so much fun on the most idyllic September day imaginable and we made £910!  I had always wanted to open my garden but knew it would never be up to muster – so the Great British Garden Party was a golden opportunity to show it off. Local friends and neighbours made lots of lovely cake, and with the help of granddaughters we compiled a brilliant photographic garden trail. It was mainly for the children but surprisingly most of the adults picked up the trail too and thoroughly enjoyed stamping their pictures – and requested a chocolate bar on completion! 
My garden is my salvation like millions of others who have only just recently discovered the joy a garden can bring. My love affair with mine has been going since 1982 when we moved in. The transformation over the years is dramatic. The trees and shrubs are mature and picturesque and we are proud of the pleasure it now gives to others and its ability to raise so much money to help the National Garden Scheme charities. We are looking forward to next year! 
Alice – creating a whimsical table setting
I love hosting friends and family and the National Garden Scheme's campaign gave me a great reason to get everyone together and enjoy tea and treats in the sun, for a great cause! I used the Talking Tables' Truly Scrumptious bundle to create my table setting – the beautiful design created a whimsical, traditional setting which was thoroughly enjoyed by the guests. The best part of the day was seeing family I hadn't caught up with for ages, who all agreed that the Great British Garden Party campaign is such a great way to make the most of the British summer whilst raising funds and awareness for the brilliant nursing charities. Many left planning their very own tea parties to support the National Garden Scheme.
Plant sale and chats
"This year I've volunteered to help run the Hertfordshire Instagram account," explains Rebecca Fincham. "It's my first year with the National Garden Scheme, which has been resoundingly lovely. We ran a plant sale from 10am-2pm on a Saturday and it was a lovely excuse to meet and chat to a lot of our new neighbours. The plants were all things I'd grown from the seed or bulbs, or divided and re-potted from the garden, and pots that I no longer needed. My 10 year-old son got involved too with some good artwork for the occasion! Together we raised £173.80." 
Emma, a 24-year-old gardening enthusiast who grows fruit, vegetables and cut flowers on two veg patches in Cheshire, hosted a Great British Garden Party and raised £630.  "I sold home grown produce, fresh flowers and plants from the garden. We also had Guess the name of the calf as well as cakes and refreshments. It was great to see so many familiar faces and share our garden." 
Nicola – setting new standards 
"I confess to having been daunted by a sense of responsibility. My parents were John and Cynthia Ramsden, who opened Fanshawe Gate Hall Gardens in Derbyshire for many years for the National Garden Scheme. While my own suburban garden isn't up to the same standard it developed well during lockdown and was a lovely place for a tea party where we raised £695. Still, I couldn't help thinking of the gardening standards set by my parents and hoped  that my garden would still look good, even if for more forgiving friends rather than the general public!" 
Jennie – a lovely afternoon in Hertfordshire 
 "We had a lovely Garden Party on Sunday 5th September with sunshine all the way.  23 friends and their friends turned up and together we raised £206.45. At the end of the event all the leftover cakes were taken to the local Care Home and were gratefully received.  After a harrowing week with blocked sinks and lawnmowers dying, it all turned out perfectly! A truly lovely afternoon." 
Ebony – USA paella party 
It was not just in the UK that people chose to support the Great British Garden Party. One American fan who has been inspired by our British gardens and developed a passion for gardening during lockdown was super excited to get involved.  Ebony had set up a garden club called 'Eight seats Garden Club' and decided that they should all get involved. 
"My husband is an attorney by profession but a chef by passion and had recently bought a vintage khadai bowl. He was super excited to use it and so we came up with the Paella Party theme. The party was amazing and so much fun! The best way to close out our summer. We raised £100 for the National Garden Scheme this year but now I have learnt the ropes I am planning something even bigger and better next year!" 
What's more, since we shared Ebony's story her local newspaper covered the story too!  Read the full story  
Margaret – My chaotic Great British Garden Party 
"Every other year for the last eight years we have raised money for charity in memory of our darling son Patrick. Our loss never diminishes, not by even a single ounce, but doing something for others gives us a focus – and we know he would approve. This year we chose to support the National Garden Scheme with a Great British Garden Party.  
"Friends came and supported and we just asked for donations for coffee, juice, tea and cakes and sarnies. Our bring and buy sale and raffle were hugely popular, and everyone kindly dug deep. 
"A big gin and tonic was raised at the end of the day and a jolly good donation of over £700 was sent off to the National Garden Scheme. 
Have a go next year – if I can do it, so can you."  Read the full story here.
John – gardens and cake galore 
On a glorious September Sunday, Chairman of Carers Trust John Mclean hosted a wonderful Great British Garden Party to raise funds for the National Garden Scheme's nursing and health beneficiaries, of which Carers Trust is one. With the support of neighbours and his local community, the event included visits to four inspirational, private gardens and a wonderful afternoon tea with fabulous cakes. At the last count they had raised over £4,000. Read more.
If you have already hosted a party but have not yet submitted your donations, click here to find out how to do so. 
If you were unable to hold an event this year but would like to take part and make a personal donation then you can do that through our JustGiving page. 
Thank you